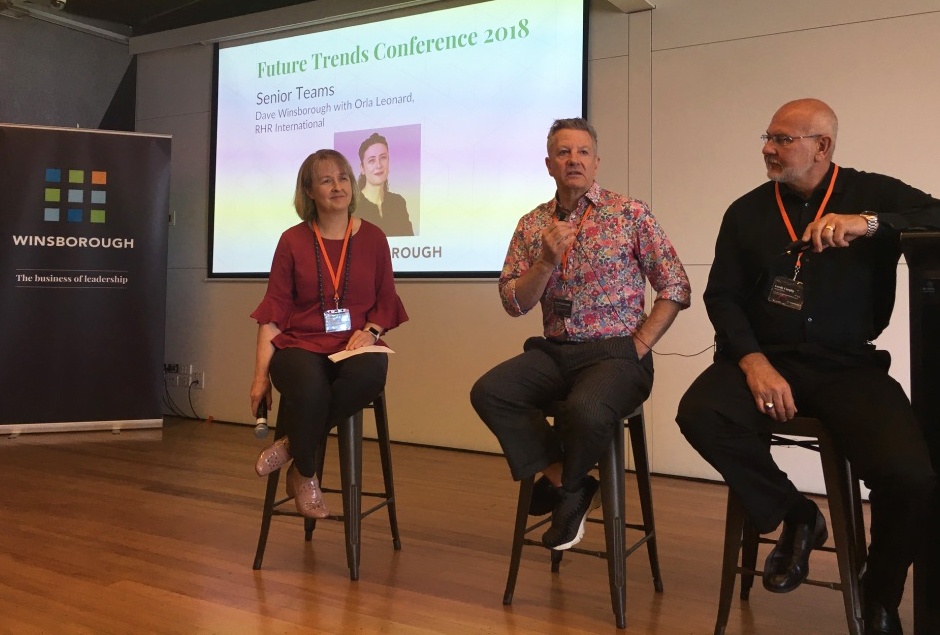 This year's Winsborough Future Trends Conferences have brought together some of the world's foremost experts in leadership and teamwork. The 2018 focus was to look at the future of teams – creating high performing teams in a fast paced technological environment.

For the events, we were fortunate enough to have access to a global expert on leadership in organisations – our very own Dave Winsborough. In this blog we look at Dave's presentation on Teams and his key messages.

Dave's background
Dave is world renowned for his skills in building high performance senior teams and is an author and presenter who has spent the last two years heading the Innovation team, HoganX, at Hogan Assessments in New York. His latest book Fusion: The Psychology of Teams, which describes the hard, soft and deep factors that create the conditions for teams to win and team members to thrive is the perfect backdrop to this year's conference topic.
Now back home in New Zealand he has re-joined the Winsborough team and was available to share his insights on modern methods of psychological profiling, talent management and high-performance teamwork at Future Trends.
Missed the event? Check out the video here
It's clear - the world is constantly and rapidly changing, but what does that mean for teams? Well, it looks like teamwork is making a comeback.
You may have heard of the 'disease of inclusion'? It looks like it's spreading and is here to stay for the foreseeable future. This revolution in collaboration has changed the landscape for how organisations operate and has come in many forms.

5 Revolutions in Collaboration

1. War for talent
With the increase in collaborative ways of working, i.e. in teams, there comes a war for finding and hiring the right people to achieve effective teamwork. A key component of an effective team is for it to be diverse. This isn't necessarily about diversity in the traditional sense of the definition, but rather, more towards having team members with diverse cognitive abilities.
This 'Diversity Tsunami' can bring with it both positive and negative effects. The positive outcomes being that your team is more knowledgeable as a whole, has a range of ways of thinking and differing perspectives. The negative being that diversity can slow trust, bring misunderstanding and inhibit communication as it adds complexity.

2. Connectivity will be ubiquitous and structure will become fuzzy
As the future progresses, we will only continue to become even more connected which will make the lines of structure blurry.
Collaboration is already being wired into processes and tools:
All mobile costs and communications are cheaper

Connectivity platforms are already widespread – Slack, GitHub, Trello, etc.
Collaboration tools like Google docs, Microsoft 365
Dave advised that a way to combat this blurring of the lines in a fuzzy structure is to ensure that team leaders have clearer, well defined skills that they stick to.

3. Mixed reality workplaces
Mixed reality workplaces are virtual spaces of shared visualisation and manipulation of data, objects and people in a visual workplace. Though we can confidently predict that this will be the norm in the future, this is already happening in our workforce today.
It is no longer just a concept for 'the future' as we use and are seeing the benefits of these tools now.

4. Artificial team members
The use of artificial intelligence (AI) is already alive and well (think Uber, Alexa, etc) but we will see an accelerated uptake of AI in teams in the future, with AI powered team building emerging.

5. Team is a verb, not a noun
Team is more than a name, it's an 'action' that all team members need to participate in. Everyone will need the skills and flexibility to act in moments of potential collaboration when and where they appear.

---------------------------------------------------

So, with all this in mind, with teamwork growing and collaboration on the rise, what will change? Dave believes that decision rights and control will become fuzzier. What won't change? Hierarchy will stay, dynamics and conflict will never disappear, and our need for human interaction will always be there.
Teamwork is increasing, but it appears that for it to be effective there are key factors that need to be incorporated to make it soar.